Coffee & Cigarettes Remix
Live Audio-Visual Show
Julie's remix images
Julie's remix images
Benoit's remix images
Pascal's remix images
Personal CAC stories: Thomas Chamonaz & Olivier Lossi
Cinema Fellini: Screen setup
Cinema Fellini: AV setup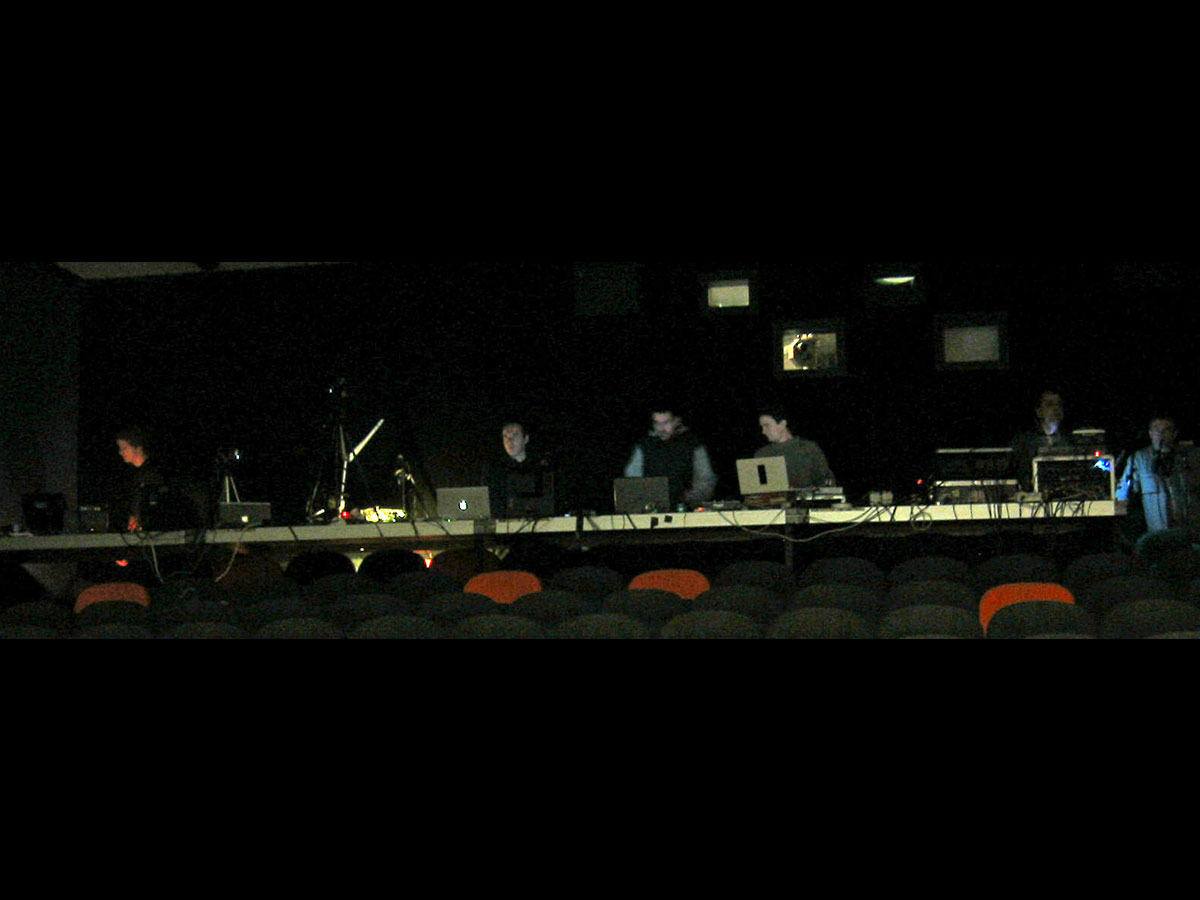 Cinema Fellini: AV setup
Me performing live / photo: Philippe Beillas
Working on show / Left to right: Benoit, Julie, Pascal, Emmanuel, Sebastien & Cyril
Notes
Notes
Electro Choc 3 Festival : Cinema Fellini / Le MaTriCe
VilleFontaine, France 04/2008
An original & remix work using excerpts from Jim Jarmusch's film, Coffee & Cigarettes, for Electro-Choc 3 Festival. The film consists of several short stories between two people having coffee and cigarettes.
I love this film! It also inspired me as a video jockey (VJ) because I thought it would be cool to mix the stories with one another. So I proposed this idea to the collective since we were brainstorming for the festival. It was accepted and I developed it further as we started working on it.
Since there were three video artists (me being one of them) and three musicians, I decided on three screens side by side for a video artist + musician team. We also videotaped our own personal coffee & cigarette stories and included them in the show. There are more details about this show, but I'll stop here.
Note: This remix is also in conjunction with the Coffee & Cigarettes Table Installation and a jam session with the BTS of Bourgoin-Jallieu (see both videos below). We also performed Coffee & Cigarettes Remix at Cafe-Lecture in Lyon (05/2008). My remix of Jack Shows Meg his Tesla Coil was shown at The Corridor, Discussions on Film, London, England (08/2009).
Artist collective Le MaTriCe: Benoit Voarick, Pascal Caparros, Cyril Darmedru, Sebastien Eglème, Emmanuel Martin & Julie Meitz. Special thanks to the collective for trying to understand my bad French at the time ;-)
Tools: Adobe Creative Suite + Resolume Avenue 3.1.0 + Creative Keyboard + Live Lab's Tablet 2 Midi + Sima SFX-9 Mixer
Video : One of my remixes for the Coffee & Cigarettes Remix Show on 3 Screens
Video : Electro Choc's Video Report : Remix Show
Video : Coffee & Cigarettes Table Installation
Video : Electro Choc's Video Report : Installation
Video : Electro Choc's Video Report : Jam session with BTS of Bourgoin-Jallieu